Crouse Hinds 4 Way Traffic Signal

This is an old Crouse Hinds four direction signal. It has the older, collectable smiley lenses, and glass mirrored reflectors. It was purchased on ebay in April of 2000. These signals were produced in the 1940's and early 1950's. The previous owner, who purchased it in 1971, was told that it was originally used as a center of town traffic signal in Staunton, Virginia. It had been repainted yellow at the time he bought it, it's original color was dark green.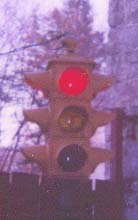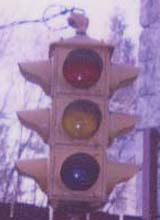 Above is a picture of the light as it was shown listed on Ebay.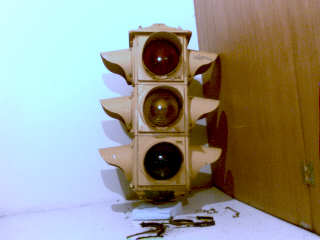 Next is a picture of the light when it was received, before it was dismantled in order to restore it. This picture hides a lot! This light was very dirty and the paint was pealing quite a bit.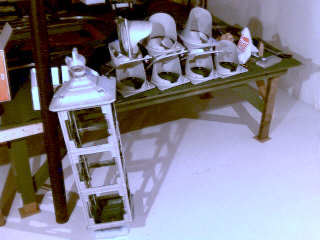 Above is a picture of the light after sandblasting and before it was repainted.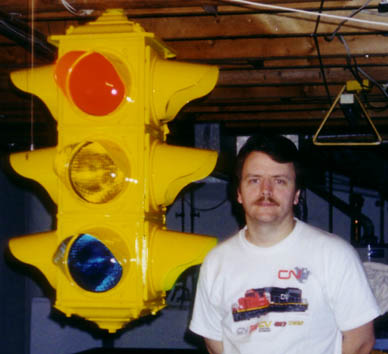 This is a picture of me with the light the night I put it back together after it was cleaned and repainted. I have replaced almost every screw in this signal, the glass reflectors have been re-mirrored (re-silvered). The body of the light was professionally repainted by a local auto body shop. During the process of taking this signal apart, (believe me, it resisted being disassembled!!) I broke one of the glass reflectors. The only way I was able to replace it was to purchase another old Crouse Hinds single face signal that had the same reflectors in it. But it was not such a bad deal because that way I got another signal!!!
For some of my traffic signals I have built 2 timers to control the sequencing of the lights. Click here to see one of these timers. I have one that will control a single face, 3 color signal and one that will control 2 opposing directions (Green on one side and red on the other) with 2, 3 or 4 three section signal heads. These timers control relays that control which light is turned on when. Their operation is not silent and they require a box to contain them approximately 6" x 12" x 24". After building 2 of these controllers, I found a site on the web that sells controllers on small circuit boards that do the same thing that my controllers do but their operation IS silent, they have a selectable flashing mode, 4 way controllers can be made to have a red-red overlap or not and they also fit right inside the signal! These controllers are made for single face 3,4 and 5 light signals, don't walk/walk pedestrian signals, 4 way signals, and railroad crossing signals They can be found at www.trafficlights.com. The 4 way version of this controller was in use in this Crouse Hinds light when this page was originally posted, and also in my eagle 4 way signal shown on my 4 way signals page. The controller is shown in the picture below.