Southern Autoflow
Here are some pictures of the Autoflow from the day it was received it, up to the day it was hung up on display.
| | |
| --- | --- |
| As you can see, this signal came with a strange assortment of lenses in it. The 3 original visors that came with this signal can be seen to the right of it on the table. The visors on this signal were riveted on in 3 places; 8 o'clock, 12 o'clock, and 4 o'clock. These original visors are pretty hard to find so Eagle tunnel visors were modified by grinding off the tabs and drilling new holes in the position of the holes on the signal. Since the holes on the signal were made for rivets, they had to be threaded so the visors could be screwed on. It worked out rather well in the end. A close look at the top of the signal in the photo will show that the rods that hold the signal together were long enough that a fourth section may have been used on this signal at one time. The rods were bent over at the top so the signal would remain together. The bent ends of the rods were cut off to the proper length and re-threaded during the restoration process. | |
Some signal manufacturers used metal tags to "ID" their signals. Below is a picture of the Autoflow tag on this signal.


Here are a couple pictures of the signal sandblasted with its new visors.

You may notice some unique fasteners on the doors. They are DZUS fasteners. See the picture below for a close up look.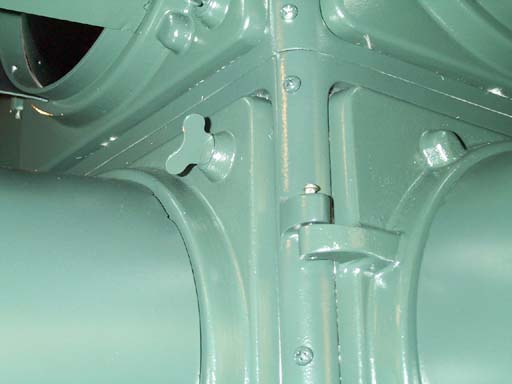 And finally, here is a picture of the signal after being restored.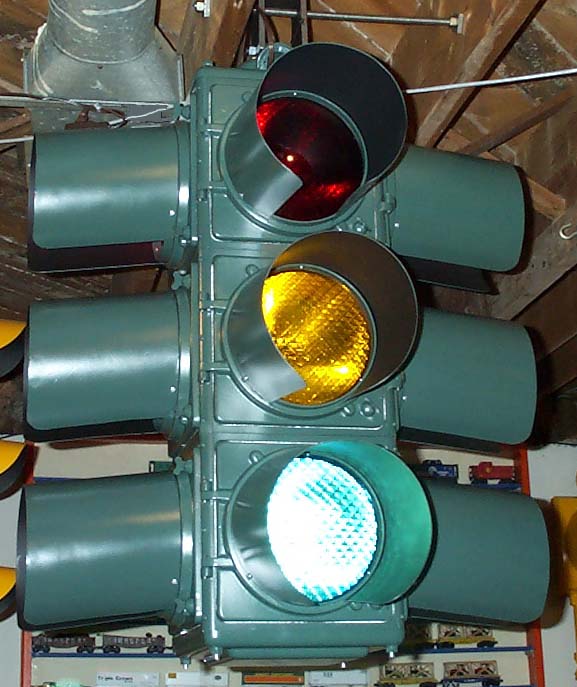 The bottom piece of this signal has mounting holes for a controller that could be contained in the signal itself. This signal did not come with one, so a Lights To Go 4 way controller was originally installed there instead. Now this signal runs off of the EF-15 controller in this collection. Signalfan was lucky with his Autoflow because it did come with the original controller. It was configured so that the yellow light came on with the green light, then they both went off when the red light came on. You can see an animation of his Autoflow sequencing like this here.
This page originally posted on 4-20-2004