This page features Four Way Beacons.
---
W.S. DARLEY 4 WAY CAUTION/STOP BEACON TRAFFIC SIGNAL
| | |
| --- | --- |
| To see the CAUTION lens in the Darley four way beacon, move your mouse over the picture. Click on the picture to learn more about this Darley signal. | This is a Caution beacon. Usually found out away from the city at intersections that are not busy enough for a traffic signal. There are no accurate archives to date Darley signals by, but it is known that they were produced starting sometime in the 1920's. Older Darley 4 way signals only had one bulb per section serving all 4 lenses in that section. This resulted in three section Darley signals having red lenses on the top on two of the four sides and green lenses on the top on the other two sides with yellow in the middle all the way around. Newer Darleys did have reflectors with one bulb per lens like most other traffic signals so that red lenses could be on the top, and all the green lenses on the bottom, on all four sides. |
---
CROUSE HINDS TYPE D 4 WAY CAUTION/STOP BEACON TRAFFIC SIGNAL
| | |
| --- | --- |
| | Here is another Caution beacon. I found the body for this beacon for sale from one person and got the top and bottom from someone else and put them together to make this signal. This one is made by Crouse Hinds and can still be found in places in New York state. It is known as a type D. I was surprised to actually locate 3 of these near my own area in Michigan during 2002. To see the Stop side of the beacon, put your mouse over the picture. Then click on the picture if you would like to see some pics of what this signal looked like before I restored it. |
---
G.E. 4 WAY STOP BEACON TRAFFIC SIGNAL
This beacon was in very good condition when it was acquired which made for a fairly easy job in restoring it.
It has been repainted and new cloth door seal has been put on. A cloth rope like material was used for before rubber became widely used to keep the weather out of old signals.
For more info and pictures of this signal click here.

In 2019, I upgraded the lenses in this beacon from the "brick" lenses that it came with to GE "spiderweb" lenses. The picture on the right shows the lens upgrade.
---
EAGLE 4 WAY CAUTION/STOP BEACON TRAFFIC SIGNAL
Most older 4 way beacons including all of the others in this collection have cutaway visors.
When this beacon was acquired, it didn't have any visors. So I decided to get a set of each type of visor for it to change its look.
It certainly looks different with tunnel visors! The red side of the beacon can be seen by putting your mouse on the left picture.
---
EAGLE 3 WAY CAUTION/STOP BEACON TRAFFIC SIGNAL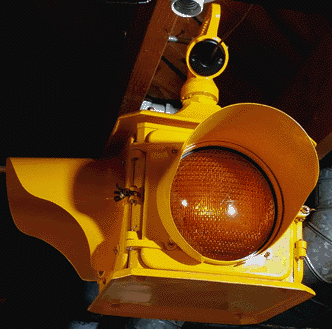 This is the only 4 way signal in this collection with a blank door, which makes it a 3 way instead of a 4 way signal.
---
Here is a video of both Eagle beacons on display in my basement. They are setup to wig wag back and forth between each other.
---
CROUSE HINDS TYPE M 4 WAY STOP BEACON TRAFFIC SIGNAL
| | |
| --- | --- |
| | This beacon was in good condition when it was acquired, except for the paint job being fairly weathered. Crouse Hinds made M type signals from the late 50's until about 1966. The older D and DT type signals were much more ornate than the type M. The body of the M was actually made from a modified type D/DT mold. M and D/DT 4 way signal sections can be stacked and will fit together perfectly, although it would look rather unattractive to a signalfan! To see more pics of this beacon click here. |
---

CROUSE HINDS TYPE M 4 WAY 2 SECTION BEACON TRAFFIC SIGNAL
| | |
| --- | --- |
| | This beacon is the same type as the one above, but with 2 sections so you get a bouncing ball or a wig wag effect. It also sports a quick disconnect hanger, which is my only one in this collection. This hanger has a terminal strip in it so the signal can be "unwired" and removed without having to remove the hanger and wiring to the controller. |
---